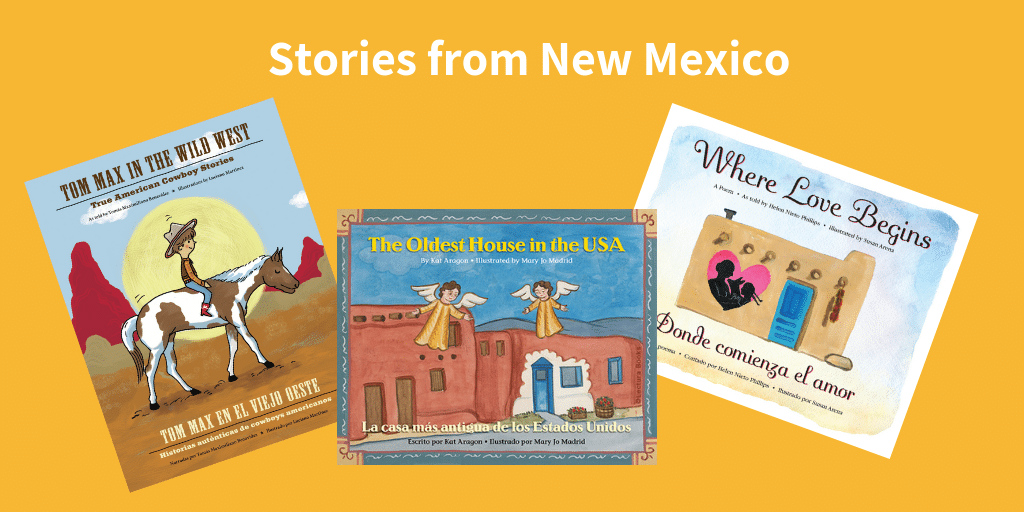 New Mexico's history is a unique blend of Native American and Spanish cultures.  Sharing stories from New Mexico is a great way to promote diversity in your classroom.  New Mexican tales showcase how both cultures worked together to forge a new identity. English Language Learners (ELLs) may relate to these tales of identity, as they too are learning to work with other cultures to form a new identity in their new home.  Take a look at some bilingual books that share the New Mexico experience.
Where Love Begins
Where Love Begins is an oral history written in the form of a poem.  It tells the story of a young girl growing up in Bernalillo, New Mexico with her family.  This book combines a tale about family love, deep historic roots, and a well-known 325-year-old tradition in the young girls town.  Story is magical and transports you to another time and place – a place where only family and love matter.
The Oldest House in the USA
The Oldest House in the USA by Kat Aragon is a short but sweet book that gives readers a peek into history.  The award-winning book shares the story of a house in Santa Fe, New Mexico, which was built in the thirteenth century.  The book goes into detail about who has lived in the home. Native Americans, Spaniards, and Mexicans have all resided in this marvelous home.  There's even word that a ghost or two are living in the house. The beautiful illustrations by Mary Jo Madrid capture the true look and feel of New Mexico's art.  The Oldest House in the USA won an award at the 2012 International Latino Book Awards.
Tom Max in the Wild West
Tom Max in the Wild West by Tomas Maximiliano Benavidez tells an unforgettable story filled with childhood adventures during the last days of the Wild West.  This young boy experiences many life lessons throughout the tale. Tom Max does everything from playing with his cousin and hunting for food, to saving his brother's life!