Latino Parents and Their Kids' Education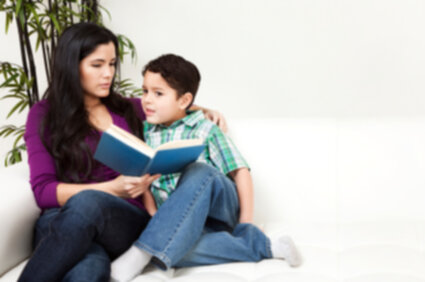 Originally from having traditional respect for teachers, many Hispanic moms think kids should wait until kindergarten to learn how to read, says an article on why Latino parents often aren't as proactive in their kids' education, compared to white moms who think around age two is the right time.
Statistics indicate that less than 50 percent of Latino 4-year-olds attend preschool in comparison to 70 percent of white kids. For economic reasons, but also cultural, a significant number of Hispanic parents prefer to depend more on family members for childcare versus a preschool program, it states.
Studies also show that reading aloud improves a child's reading comprehension and gives them a bigger vocabulary, says the article "Class Differences in Child-Rearing Are on the Rise." About 70 percent of parents with a college degree say they read daily with their kids compared to only 30 percent of those with a high school diploma or less, like Hispanics and other minorities.
The article "Don't Help Your Kids with Their Homework" states that though Asian-American children may do well on tests, research shows that, like Latino families, they also often aren't as proactive in their kids' education, probably due to the language barrier.
These findings illustrate the need for more widespread parental education and federal funding for programs at home to help guide disadvantaged students, like ELLs and/or low-income families,  says the first article.
It's not that Hispanic parents don't want their kids to succeed. It just takes time to figure out how American culture is different from the one in which many grew up in. Once they do know, though, they are just as involved as the next one.
Educating parents, one school at a time, The Latino Family Literacy Project is making a real difference in helping Latino parents become more involved. The Project offers various programs from literacy through college readiness. Slowly, but surely, this terrific organization is turning the obstacles around and helping Latino families get on track. Teachers can attend a one-day, program training at a workshop near them or via an online webinar.