Lectura Books has been publishing and distributing bilingual (English/Spanish) children's books since 2001. We focus on quality bicultural and bilingual literature to offer Latinos a reflection of their diverse cultures and histories through relevant stories.  The dual language focus allows for Spanish-speaking parents and their children, who are learning English at school, a way to learn language together and be inspired by life-changing literature. We partner with some of the best writers and artists from the Latino community to create books that inspire reading and dialogue. For more information go to www.lecturabooks.com
Recommended Children's Books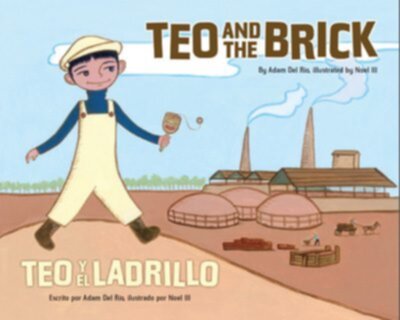 Teo and The Brick/Teo y El Ladrillo
By Adam Del Rio
This warmly told story of a boy's love for his father takes place in Los Angeles in the 1920s at a brick making factory and workers camp. Written by Adam Del Rio and illustrated by Noel Ill, Teo and The Brick is aimed at the growing market for young readers from Latino immigrant families. Teo and The Brick is intended to help promote literacy among English-learning Latino youth and their families throughout the United States.  
In the book, six-year-old Teo lives with his family in a worker's camp that is part of a brick factory. The young boy accidentally hurts his father's feelings and then tries to make up for it by creating a special brick for his father. Every sixth brick at the factory was stamped with the company name and Teo wanted to make a brick for his father marked with their family name. A story of filial love and devotion in the face of poverty, Teo and The Brick is also a glimpse, from the vantage point of a six-year-old, of a long gone time in Los Angeles history.
---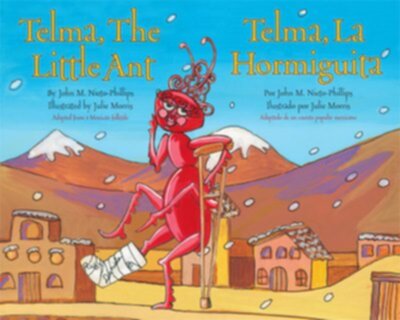 Telma, The Little Ant / Telma, la hormiguita
A Mexican Folktale Retold
By John M. Nieto-Phillips
The littlest ant in the world slips in the snow and seeks justice from the village judge. In the end, she learns that everything is connected to everything else and that we are all responsible for each other. This is a beautifully illustrated book colored in a warm Southwestern palette.
---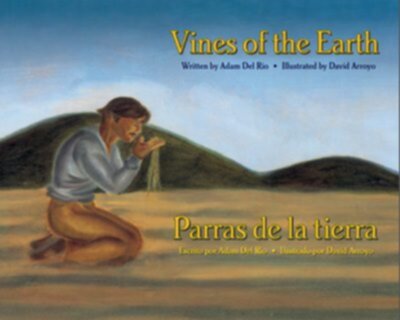 Vines of the Earth/Parras de la Tierra
By Adam Del Rio
This is the story about a migrant worker from Mexico who picks grapes under the burning sun in the California fields and falls in love with the dark berries that are cultivated for wine. Whether it is the juice of the grape or the very soil where the woody vines grow, Mario becomes enraptured by the idea that he, too, can turn grapes into wine.
He dreams about having his own piece of land and growing his own grapes on his own vineyard and making his own wine. After many years of working hard and saving every extra penny he earns, he is finally able to buy a small patch of land and, little by little, he and his family begin turning his dream into a reality.
Inspired by the true stories of farm workers who became winemakers in the Napa Valley region of California, Vines of the Earth is a story about the value of hard work and the satisfaction of dreaming big dreams.
---
Recommended Young Adult Title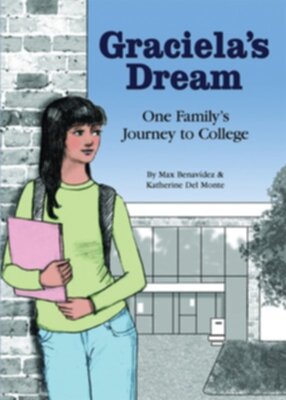 Graciela's Dream/El Sueno de Graciela
By Max Benavidez and Katherine Del Monte
Graciela's Dream: One Family's Journey to College is a warmly told story of a girl's determined desire to attend college that is also a primer for families wanting to know more about the ins and outs of applying to college. The book is aimed at middle-school Latino students who need to start thinking about college by the time they are in seventh or eighth grade. Told in simple but compelling chapters, the book, which is written in both English and Spanish, depicts the struggle of one young girl from an immigrant Latino family as she tries to convince her parents to support her college-going goal.
The Graciela story will touch a nerve among families, especially Latino immigrant families who often encounter many obstacles on their path to college.  Studies have shown that the major obstacle for not attending college among Latino immigrant families is the lack of information. A recent study found that half of Latino parents and over 40 percent of Latino young adults surveyed could not name a single source of college financial aid. The study also found that 75 percent of young Latino adults who had never attended college or dropped out said they would have been more likely to see it through if they had better information on scholarships, need-based grants and loans.
The information that can be gleaned from this story, Graciela's Dream, is very hopeful. Timely young Latinos and their parents, especially those students in middle school, will be touched by the story and the main character's determination to go to college against all odds. Graciela's Dream says the dream is possible and getting into college is doable.