The Spanish language is the second most spoken language in the United States after English. There are more Spanish speakers in the U.S. than there are speakers of Chinese, French, German, Italian, Hawaiian, and the Native American languages combined. And analysis of the 2011 American Community Survey by the Pew Research Center found that a record 37.6 million people ages 5 and older speak Spanish at home. The next most spoken non-English languages are Chinese (with 2.8 million speakers), Hindi, Urdu or other Indic languages (2.2 million), French or French Creole (2.1 million), and Tagalog (1.7 million). You can see that the number of Spanish-speakers has grown quite rapidly in recent decades.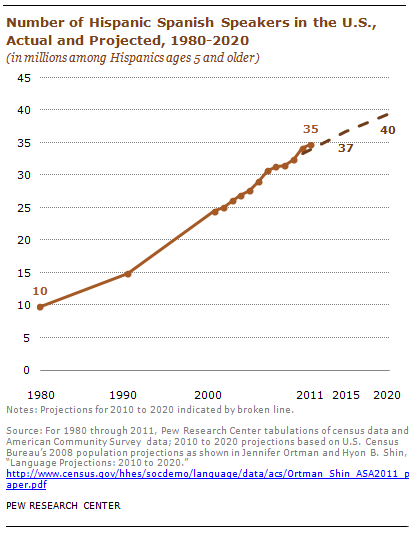 Besides being the most spoken non-English language in the U.S. today, it is one o the fastest-growing, with the number of speakers up 233% since 1980. By 2020, the U.S. Censure Bureau the number of Spanish-speakers is expected to rise to as many as 43 million. (See chart below.) Most of these Spanish speakers are Hispanic. Three-fourths of all Hispanics ages 5 and older speak Spanish.
With this change in demographics, many teachers are left wondering how to best help the parents at their schools and how to best teach their English learners in their classrooms. Lectura Books can provide Staff Development for teachers who want to understand how to reach out to the hispanic parent population. Our programs and training are provided by The Latino Family Literacy Project™ and workshops are provided throughout the United States, as well as online via online webinars for program training.
That's why Lectura Books publishes bilingual books in Spanish and English – so that Spanish speaking parents can read with their children and learn English together with their children. Take a look inside one of our bilingual books – Family Stories and see for yourself why parents and kids love our books.