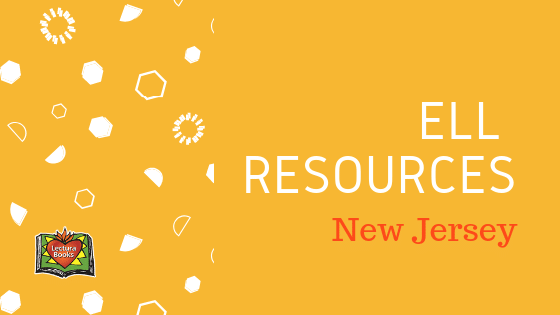 New Jersey: English Language Learner (ELL) Resources
New Jersey schools were home to more than 61,000 English Language Learners (ELLs), as of the 2012-2013 school year.  That indicates a 7% increase from the 2002-2003 school year, as per the Migration Policy Institute in 2015. Currently, the most common five languages spoken by ELLs in New Jersey are Spanish, Arabic, Chinese, Haitian, and Korean.
State of New Jersey ELL Resources
State Agency: New Jersey Department of Education
ELL Website: Bureau of Bilingual/ESL Education
ELL Identification
Home Language Survey:  New Jersey provides a sample Home Language Survey in English and Spanish on its website.
Placement Exam: WIDA-ACCESS Placement Test (W-APT)
ELP Standards & Assessment
ELP Standards: WIDA English Language Proficiency Standards
ELP Assessment: WIDA-ACCESS for ELLs
ELL Instruction
Instruction Models: New Jersey offers an overview of different instruction models on its state website.
Statewide Standards-Based Assessment
Assessment: New Jersey Assessment Website
Additional Information
NCELA: Title III Information
WIDA: New Jersey Contact Information
Common Core: Yes
Statewide Resources
Lectura Books
Lectura Books is the go-to source for bilingual books and culturally relevant family reading programs.
The Latino Literacy Project
The Latino Family Literacy Project is known for its award-winning parent involvement programs for Spanish speaking parents.
New Jersey Education Association
New Jersey Education Association is a National Education Association State Affiliate that regularly lobbies legislators for the resources schools need, campaigns for higher professional standards for the teaching profession, and files legal actions to protect academic freedon and the rights of school employees.
New Jersey Federation of Teachers
The New Jersey Federation of Teachers promotes statewide organization and unionization of teachers and all other personnel engaged in education in order to carry out the program and policies of the NJSFT and the American Federation of Teachers.
New Jersey TESOL/New Jersey Bilingual Educators
NJTESOL/NJBE is an association of educators and administrators dedicated to the instruction English language learners at all levels of public and private education. The organization's interests include classroom practices, research, curriculum development, funding, employment and socio-political concerns.
PennTESOL-East
PennTESOL-East is a professional, non-profit association in eastern Pennsylvania, southern New Jersey, and Delaware dedicated to the improvement and advancement of teaching English to speakers of other languages.
New Jersey: Seal of Biliteracy
New Jersey adopted the Seal of Biliteracy in 2016. The Seal of Biliteracy is an award given by a school, district, or state in recognition of students who have studied and attained proficiency in two or more languages by high school graduation.